We are blessed to have wonderful missionaries in the Philippines India, Thailand
other countries, and here at home.
Amod & Rebekah Singh
have a heart and a "Daisy" home to
minister to children of the streets in India and are training these young kids to love and serve the Lord. Amod and "Bekah" have two children of their own, but have given themselves to about a dozen children who now live in their home and are taught and trained on a daily basis. Pray for this young couple as they continue to seek to serve the Lord in whatever way He leads.
Paul & Debbie Howells have a wonderful work in the Philippine mountains and have been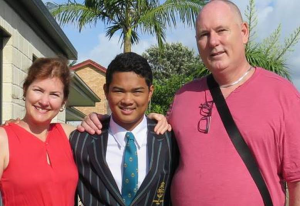 there for 25 years now. When they first came, there were no believers, now there are thousands including many teachers and leaders – praise God!!
Pastor Paul and some of our guys from "The SUB" have been to Lapoc a couple times to visit and work with the Howells. Click here to connect to their blog http://howellshullabaloo.blogspot.com/
Dan & Debbie Ecker are working with the people of Thailand, which includes training of many Pastors who come from many miles away to be trained.
The Eckers have developed many programs including supporting families without fathers and reaching the people for Jesus Christ.
Check out their site http://firstlightinternational.net/about-us/meet-the-board
Skip & DeeDee Smith:
Skip & DeeDee are our local "missionaries" and minister to the homeless and needy in McKeesport and have a ministry in West Newton as well.
We are thankful for our missionaries who unselfishly give their lives to further the kingdom of God. God, make their work fruitful.