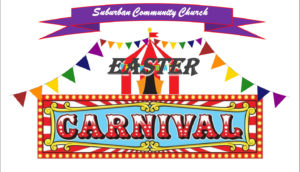 UNFORTUNATELY, BECAUSE OF THE CORONA VIRUS CRISIS,
THIS EVENT HAS BEEN CANCELLED.
We will be hosting an Easter Carnival and Egg Hunt,
here at "The Sub" on April 5th, at 12 pm.
This Carnival will be open to all kids who love to play games
and families who are looking for a new twist on the traditional
The Easter Egg Hunt will be split up in age groups:
Ages 1-3: 12:30-12:50pm
Ages 4-6: 1:00-1:20pm
Ages 6-12: 1:30-1:50pm
Please Join us for a fun filled day of games, refreshments, and prizes.
Although the Carnival begins at 12pm please feel free to join us for Praise and Worship and our Palm Sunday Service beginning at 10am. Sunday School Classes will be available for children as well!